Every Friday millions of Muslims visit the nearby main mosque and listen to the Friday sermon (Khutbah, discourse) by the Khateeb (imam, Mullah). The Khutba is delivered in two parts, firstly the discourse delivered in the local language followed by a short 3 to 5 minutes Arabic fixed discourse comprising verses from Quran and Hadith repeated as a ritual. It is followed by Jumah Salah (prayer).
History:
The khutbah originates from the practice of the Prophet, Muhammad (pbuh), who used to deliver words of exhortation, instruction, or command at gatherings for worship in the mosque, which consisted of the courtyard of his house in Medina [ now Masjid Nabwi]. Though khutba isn't mentioned directly in the Qur'an, one passage uses the word "khutubah" (Al-Baqara:235), Khitab as 'Speech'(38:20, 23) and Khitba 'Address'(78:37).
After the conquest of Makkah, prophet Muhammad (pbuh) presented himself as a khatib to the city in AD 630. The first four caliphs, and the Umayyad caliphs and provincial governors all delivered sermons. There were not necessarily exhortatory, but addressed practical questions of government and sometimes even included direct orders. Under the Abbasids, the caliph himself no longer preached, but assigned the task to the religious judges. The Abbasids policies helped in strengthening the religious aspect of the sermon. Name of ruler was mentioned in Khutba.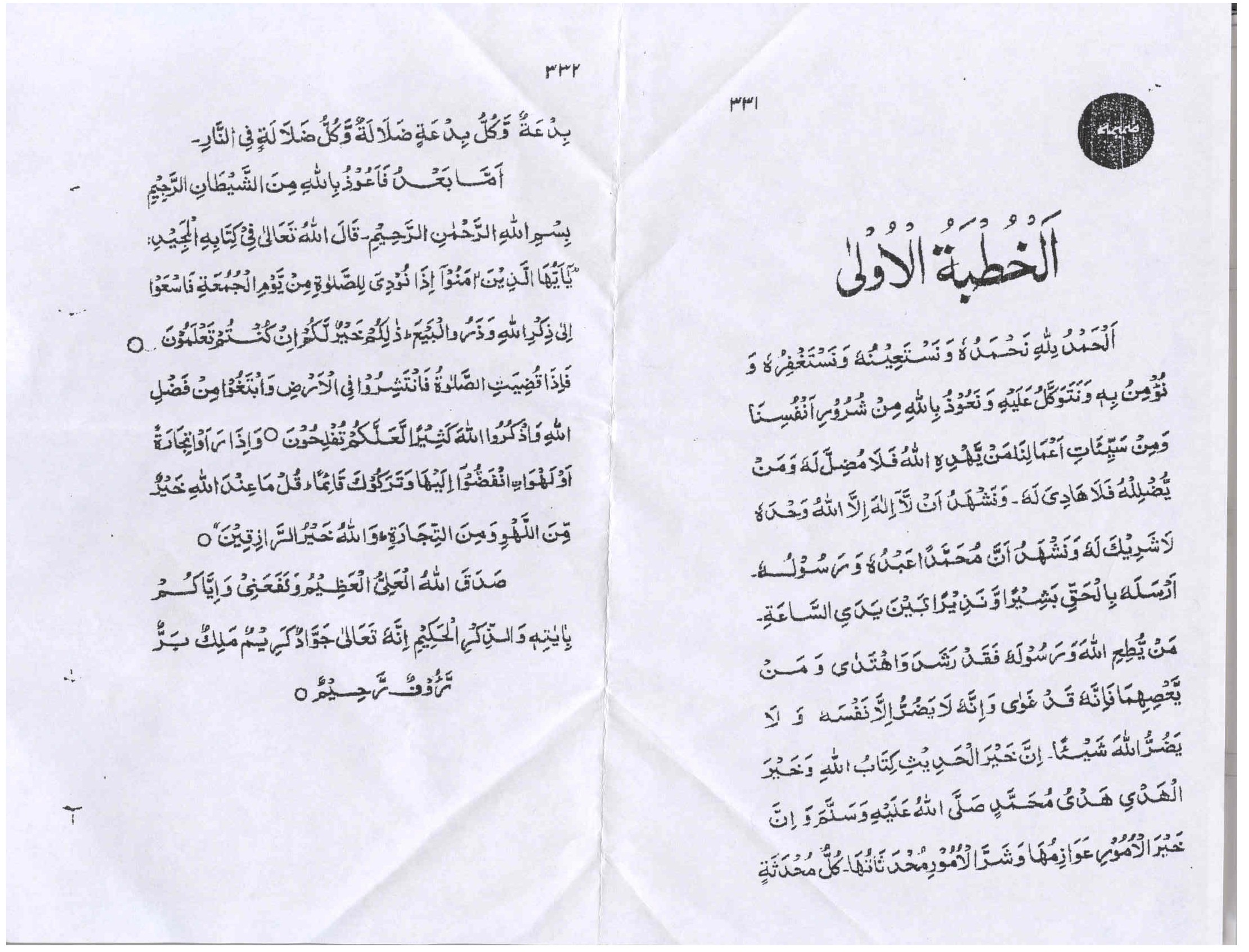 Importance:
Friday Khutbah is the best opportunity to educate the Muslims about Islam, ethics, social responsibilities and spiritual growth. In many Arab countries the Friday sermon on a given topic is provided by the state and is read out by the Khateeb. While in other cases especially in Indo-Pak subcontinent the Khateeb [Imam, prayer leader] is free to deliver sermon on any topic of his choice. The duration varies from 30 to 60 minutes. Recently Sindh government has decided to exercise control like Arab countries. This may not be appreciated by the clergy, it might limit their power.
The Khateeb:
The effectiveness of any discourse depends upon the knowledge, personality, method of delivery and credibility of the Khateeb. All Khateebs derive the strength of their speech with references form Quran, Sunnah and Islamic history, but the effectiveness differs from man to man. Though there are exceptions but mostly the majority of Mullah in the village does not enjoy a good status in the society. He is dependent on the people and notables for financial support. Performs fixed religious duties, like leading prayers in mosques, perform religious ceremonies on birth, death, marriage and religious functions like Dua, Khatm e Quran [Quran recitation] etc. He lives upon donations and charity, as rarely some know any other work for living. Some Mullah are practicing Hakeem [treating common diseases with traditional herbal medicines]. Their religious knowledge of Quran and Hadith is limited except memorisation of some verses and few lectures which are repeated again and again. It is too much to expect him to contribute in intellectual and spiritual growth of community in the challenging modern high tech cyber environments making ingress in to far flung villages due to cable and telecom revolution underway.
The overpopulation and lack of resources do not allow the poor to even feed rather than educate their children. the Madaris [Islamic religious seminaries, run on charity] provide free boarding, lodging apart from a career as Imam of mosque. This is considered as a blessing (sawab) and religious duty of offer one or more children in a poor family to attend the Madrissa. The out put of Midaris, is a class, divorced from the society and they produce the religious scholars with myopic world view with particular rigid mind set and outlook. All others 99% Muslims appears to them as sinners, with no religious knowledge and understanding which they think need conversion even by use of coercion or force. The element of Dawah through polite means is almost non existent. However due to their lower social and economic standing they temporarily compromise but as and when the opportunity arise they unleash their forces and venom. The tacit support of Terrori of Takfiri Taliban is living example. Their sermons would have negative effect on the society especially on the youth. The hate speeches mixed with political, social and moral issues can only cause frustration and confusion.
Madrasahs were great seats of learning, they existed as early as the 9th century, but the most famous one was founded in 1057 by the vizier Nizam al-Mulk in Baghdad. The Nizamiyah, devoted to Sunnite learning, served as a model for the establishment of an extensive network of such institutions throughout the eastern Islamic world, especially in Cairo, which had 75 madrasahs, in Damascus, which had 51, and in Aleppo, where the number of madrasahs rose from six to 44 between 1155 and 1260. Important institutions also developed in the Spanish cities of Cordoba, Seville, Toledo,Granada, Murcia, Almería, Valencia, and Cádiz, in western Islam, under the Umayyads.
Al-Azhar University at Cairo, Egypt is the chief centre of Islamic and Arabic learning in the world, founded by the Fatimids in 970 C.E with a large public liberary and several colleges. The basic program of studies was, and still is, Islamic law, theology, and the Arabic language.
Later the philosophy, medicine and sciences were added to the curriculum. Gradually these subjects got eliminated after having reached climax resulting in decline. The knowledge of din (faith) is useful for success in this as well the next world, while the knowledge of dunya (world) is essential for this world; hence knowledge of din is fundamental. This is the reason that from very beginning the religious and scientific knowledge were combined. The din (faith) and dunya (worldly affairs) were not separate entities. This helped to flourish in knowledge. Thus the scholars have always enjoyed respect in the Islamic societies. The emphasis is on acquisition of useful and beneficial knowledge. [

Read more:
Medieval Islamic Education System]
The present state of decline in society is due to abandonment of practice of Din Islam, there is lot of theory but not practice. Dawah the actual job of Ulema needs a lot of knowledge and patience, which is neither part of their training nor considered important due to long term effects. Dawah to a young modern mind cannot be based purely on theological knowledge but with the working knowledge of modern science and technology, which is not un Islamic.
For the believer Qur'an and Sunnah is the main source of spiritual knowledge with signs of other knowledge, the other source is the knowledge of these branches attained and preserved by humanity over a long period of human history. This knowledge is gained and retained through the intellect endowed to man by Allah at the time of his creation as mentioned at verse 2:31 in Qur'an. In case of a believer, the understanding of 'signs' will strengthen his faith, while a non believer (or weak Muslim) will be inclined to fully comprehend the reality of Islam. Qur'an has repeatedly drawn the attention of man towards the signs of God at; 3:190, 6:37,38 & 100, 17:12, 36:41-44, 71-76, 40:80,81, 56:63-67 and also at many other places. Allah says in Qur'an: "He also made subservient to you whatever is between the heavens and the earth; all from Himself. Surely there are signs in this for those who think."(Qur'an;45:13), "Will they not then ponder on the Qur'an?.."(Qur'an;4:82). Hence it becomes obligatory for the believers (both men and women) to acquire the knowledge of this world along with the religious sciences to understand the signs of Allah and to harness the powers of nature at 'heaven and earth; made subservient' to man to derive benefit out of them. Ignoring the knowledge of religious sciences at the cost of other knowledge or vice versa may be against the spirit of Qur'an (45:13,13:3).
Unfortunately most of traditional Muslim scholars lack in modern scholarship. Just to quote one example of Abdul Aziz bin Abdullah bin Baz (1910–1999). He was a Saudi Arabian Islamic scholar who remained the Grand Mufti of Saudi Arabia from 1993 until his death in 1999. Many of Ibn Baz's views and rulings are considered controversial (both inside and outside Saudi Arabia), including those relating to cosmology, women's rights, Saudi Arabia's support for the Oslo Accords, and the acceptability of stationing non-Islamic troops in the land of the Two Holy Mosques during and after the Gulf War.
Here are few examples which throw light on the level of scientific knowledge of Grand Mufti. In 1966, when Ibn Baz was vice-president of the Islamic University of Medina, he wrote an article denouncing Riyadh University for teaching the "falsehood" that the earth rotates and orbits the sun. He believed earth to be flat, however bin Baz changed his mind about the earth's flatness after talking to Prince Sultan bin Salman Al Saud who had spent time in a space shuttle flight in 1985. In his 1966 article, ibn Baz did claim that the sun orbited the earth, and that "the earth is fixed and stable. As a result of the publication of his first article, ibn Baz was ridiculed by Egyptian journalists as an example of Saudi primitiveness, and King Faisal was reportedly so angered by the first article that he ordered the destruction of every unsold copy of the two papers that had published it. Western writers subsequently have drawn parallels between their perception of ibn Baz and the trial of Galileo by the Catholic Church in the 16th century. Many Fatwas issued by famous Islamic Seminaries in India and Pakistan also reflect their lack of understanding of modern scientific scholarship.
Our Khateebs are not expected to become scientists overnight but at least must try to acquire working
scientific and modern knowledge of other social sciences which should help them to communicate with the modern educated mind. If they can't then at least refrain form commenting on such matters which can make them laughing stock and reduce their credibility of religious knowledge which they are supposed to be knowing.
Clergy is not in Islam, however learned people or ulema, scholars are very much needed, Alim should not be restricted to the knowledge of Deen but also people with knowledge of other sciences are also scholars and one man with both types of knowledge is of great value. there is long list of such Muslim Ulema.
The society has to share the blame for this situation. Every one like his children to be Doctors, Engineers, Lawyers, bureaucrats, businessmen etc but not Alim! The best minds do not go to this field which requires the genus minds to comprehend Quran, Hadith and social sciences.
However efforts can be made to improve the quality of present lot of Ulema, the urgent need to reform the morally corrupt society. Following step may taken at local community level and government level:
Khateebs should be well paid and their living conditions improved.

Effort be made to open a Maktib school for Quran recitation and religious education. Some are already working, their condition be improved.

Steps should be taken to improve their education level and intellectual growth, some incentives may be introduced. They may attend courses.

Instead of making them dependent on community, they should be encouraged to learn some skills for living or to enhance their income.

Common people should learn to perform normal rituals at birth, death, marriage and other occasions to reduce dependence on professional Molivi. However this should not compromise on the importance of Ulema for Dawah and religious education.
It is observed while many Khateeb utilise Friday Khutba for the religious education of Muslims, there are others who employ it as tool for sectarianism and to promote their political agenda. Instances of foreign funding of some Khateebs have been reported.
Terrorism:
Presently Muslim Ummah is facing the menace of terrorism. The terrorists are using the name of Islam to promote their Takfiri ideology of terror, to radicalise the Muslims for recruitment, provision of funds and general support. This fake ideology can be countered through Khutba on Fridays. unfortunately due to their ignorance and lack of knowledge many Khateebs inadvertently become tool in their hands to rather promote terrorists cause rather than countering it. This is the reason we find many sympathizers around. The Muslim societies are divided and confused. While people at local level take some measures the state must respond in effective manner, to educate the Khateebs and people through Counter Narrative. Well articulated response through Friday Sermons will not only socially and spiritually reform the society but help to eliminate terrorism.
Ineffectiveness:
It is observed that the Khutbas are delivered as a routine on random topics, without any effectiveness, they hardly bring any change in the audience. They come listen, offer Friday prayer and depart to continue with their routine. This is not only with the Muslims, the Christians also face similar fate to their Sunday sermons in Europe. Muslims however excell in numbers in attendance. Their studies have shown that sermons have a minimal influence on listeners. However they found that while listeners did not learn a great deal, or change their behaviour greatly (objective measures used in some other studies) because of a sermon, they responded positively to sermons which appealed to them emotionally.
Another study obtained similar results. Listeners valued sermons and considered them the part of the obligation most likely to help them in their spiritual growth; the study found that sermons aimed at specific changes in the listeners are the most effective, but nevertheless, "it's the rare sermon that creates lasting change" while informative sermons are even less effective. The third study found that "most of the audience tended to pay attention to the sermon in its entirety, although relatively few people actually remembered what they heard". 60% attended to the sermon in its entirety, 34% gave partial attention, while 6% gave almost no attention. But only 22% had substantial recollection later, 35% had moderate recollection and 43% had little recollection. These pitfalls can render sermons ineffective and forgotten.
Here are the top ten:
1. No main point. 2 No Scripture, skewed Scripture, or context-ripped Scripture 3 Too many illustrations.
3. The congregation may not BELIEVE (in heart) what the scripture says. Acknowledge that everyone might pretend but do not believe from heart in the scripture and give them permission to investigate on their own, by reading Quran and Hadith of given references.
4 No illustrations.
6 Rants, hobbies, or pet peeves.
10 Jumping to application without explanation.
Some points that render the Sermon Ineffective are explained with possible measures for improvement:
1. The congregation is not interested in the topic chosen by the speaker. What's the alternative? The Khateeb start the message believing that the audience doesn't care AT ALL about your topic and tell them why it matters. He should build the case for why they should listen before he start with the meat of your content.
2. The congregation does not KNOW what the Holy Scripture says: Khateeb should explain everything. Instead of referencing a verse in passing, give proper context. The miraculous stories loose their impact if repeated again an again.
3. The audience do not wants to hear what Khateeb have to say: He should spend the first few minutes of the message finding common ground with the congregation. Without sounding arrogant, let them know why they should listen to him.
4. The congregation will not remember what Khateeb have to say: He should spend time crafting a memorable bottom line for the message. Then repeat it several times throughout the entire sermon.
Effective Sermon:


1. Introduce the most important facts at the start (when they are most likely to be remembered) and then go over them in more detail.
2. Use a variety of approaches – arresting stories, humour, illustrations, examples, etc.
3. Half way through, review what has been covered so far.
4. Break talks up into segments of no more than 10 minutes, with breaks of perhaps
5 minutes when learners can review what has been learnt or work through an example. Sometimes breaks should be a complete break with the subject.
5. Emphasis should be on the basis fundamentals and articles of Faith (Aymaan). If belief in accountability on the Day of Judgement is strong then Muslims will avoid all evil acts, be kind to other, patient and forgiving good Muslims.
6. There is a dire need to utilise the Khutbah as an opportunity to educate the Muslims on basic tenets of Islam to become good Muslims, good citizens and to promote peace and harmony in the society.
7. The controversial and political topics which divide the society by creating controversies be strictly avoided. Pakistan is an Islamic Republic with over 95% Muslim population. The Constitution prohibits making any law against Quran and Sunnah. The Sharia Courts are available to challenge any un Islamic law. Pulpit is not a suitable forum for such activity which can create unrest & fasad (mischief) in the country.
8. Terrorism must be rejected and condemned in unambiguous, unequivocal terms, in every Friday Khutba, rather than support in any veiled form. The Dua (supplications) for all those Shuada from Pak Army, law enforcing agencies and civilians who lost their lives as victim or while fighting against terrorists.
"Call to the Way of your Lord with wisdom and beautiful exhortation. Reason with them most decently. Your Lord is best Aware of him who strays from His Path, and He is best Aware of those who go aright."(Quran;16:125)
9. The concept of Intercession (Shifaat) must be repeatedly explained to congregation. People generally believe that just Faith (Ayman), by reciting Kalimah is enough to save them from hell fire. They think that some saint and Prophet (pbuh) will save them form hell fire. Hence they do not pay much attention to performance of good deeds.
10. The priorities of topics of Khutba be clearly defined. The Masjid Committee should carefully select and make list of topics in consultation of Khateeb. A good Muslim is a peaceful good law abiding citizen, who does good deeds, avoid evil and preach good to others. Consequently he will become regular in Salah, will affect his appearance (dress, beard etc). But if keeping beard is emphasised as a precondition to be a good Muslim, it will be counter productive, in effective. People transform gradually form easy to difficult not vice versa.
11. Khateeb should be polite, use good language, maintain dignity of audience, should not start condemning them by calling them as sinners, bad people. It will offend them, they will switch off their minds and ignore the sermon: "…The best amongst you are those who have the best manners and character." (Bukhari 4/759)
"Among the Muslims the most perfect, as regards his faith, is the one whose character is excellent, and the best among you are those who treat their wives well." (Tirmidhi 628)
"There is nothing heavier than good character put in the scale of a believer on the Day of Resurrection." (Abu Dawud 4781)
"Nothing is weightier in the scales of a believer on the Day of Judgement than his good behavior. Allah treats with displeasure a person who is given to loose and vulgar talk." (Tirmidhi 626)
"I guarantee a house in the surroundings of Paradise for a man who avoids quarrelling even if he were in the right; a house in the middle of Paradise for a man who avoids lying even if he were joking; and a house in the upper part of Paradise for a man who made his character good." (Abu Dawud 4782)
"The best servants of Allah are those who, when they are seen, cause Allah to be remembered. The worst servants of Allah are those who go about slandering, who separate friends, and seek to distress the upright." (Tirmidhi 4871 and Ahmad)
12. Though Deen Islam encompass all spheres of life, one has to be knowledgeable, expert to talk on technical subjects. A Khateeb with expertise in religious field does not become expert in cosmology, astronomy, physics, economics, sociology, political science, psychology, engineering , medical sciences etc. Only brief general references where required in sermon is enough to maintain credibility.
Conclusion:
A brief Khutba on the topic relevant to the people is well received. Emphasis should be on the basis fundamentals and articles of Faith (Aymaan). If belief in accountability on the Day of Judgement is strong then Muslims will avoid all evil acts, be kind to other, patient and forgiving good Muslims.
The main point should be emphasized and where ever necessary references from Quran and Ahadith be quoted. The examples form the life of Prophet (pbuh) and his companions be quoted. Jumping to application without explanation should be avoided.
The concept of Intercession (Shifaat) must be repeatedly explained to congregation. People generally believe that just Faith (Ayman), by reciting Kalimah is enough to save them from hell fire. They think that some Pir and Prophet (pbuh) will save them form hell fire. Hence they do not pay much attention to performance of good deeds.
Adults retain 90% of what they learn if they teach it to someone else, and have immediate application of what they learn; 75% of what they learn when they practice it; 50% of what they discuss in a group; 30% of what they see demonstrated; 20% of what they see and hear in audio-visual teaching; 10% of what they learn through reading; and 5% of what they learn through lecture. At the end the main points of Khutbah be summarized for retention.
Khateeb should be polite, use good language, maintain dignity of audience, should not start condemning them by calling them as sinners, bad people. It will offend them, they will switch off their minds and ignore the sermon: "Call to the Way of your Lord with wisdom and beautiful exhortation. Reason with them most decently. Your Lord is best Aware of him who strays from His Path, and He is best Aware of those who go aright."(Quran;16:125)
Please send your suggestion to improve this article in comments below:
Pursuit of Knowledge
https://www.youtube.com/watch?v=WZuyTFmgekA
Sep 25, 2014 - Uploaded by Dr Zakir Naik
Dr

Zakir Naik

talk on the topic

Da'wah

or Distruction.
~ ~ ~ ~ ~ ~ ~ ~ ~ ~ ~ ~ ~ ~ ~ ~ ~ ~ ~ ~ ~
More:
~ ~ ~ ~ ~ ~ ~ ~ ~ ~ ~ ~ ~ ~ ~ ~ ~ ~ ~ ~
SalaamOne سلام
Humanity,
Religion
,
Culture
,
Tolerance
,
Peace
انسانیت ، علم ، اسلام ،معاشرہ ، برداشت ، سلامتی
بلاگز، ویب سائٹس،سوشل میڈیا، میگزین، ویڈیوز,کتب
Web,Books, Articles, Magazines,, Blogs, Social Media, Videos
Over 3 Million visits/hits